Looking for a culturally rich ski holiday close to home, then head to Japan, its cheaper than you think...
There is one thing Japan is not in short supply of and that's ski resorts! When you consider the size of Japan its astonishing to know there are more than 500 ski resorts to choose from. With such dedication to the pursuit of finding 'fresh powder' on offer, where else would you go for your next ski or snowboarding holiday?
Some of the most well-known resorts include Niseko, Rusutsu, Furano and Hakuba and for the more adventurous skier and boarder who want to head into less chartered territory and discover some fresh powder, explore resorts, such as Asahidake or Hakkoda. This region's powder is loved by skiers and boarders because it's in a direct path with snow storms from Siberia, ensuring that the area receives at least 14 metres of snow in any given season.. Niseko also offers amazing panoramic views of the Sea of Japan and the volcanic cone of Mt Yotei.
There is a downside to skiing or snowboarding in some of the resorts in the Haikkaido region, the mountains are not particularly considered steep. The Nagano region, situated just 90 minutes West of Tokyo, is an area that offers steeper mountains and just as much powder snow as Haikkaido. This region includes about 6 ski resorts located around Hakuba, as well as Shiga Kogen, which covers a huge area that offers a lot of natural diversity and is surrounded by 2,000 metre high mountains.
The upper Highland Zone of Sapporo Teine reaches 1000 metres above sea level with medium to advanced courses. There is also a family park that offers sledding and tubing, located in the Olympic Zone.
One of the great things about a ski holiday in Japan is your chance to embrace new things. It's not the norm for Australian's to strip down and bathe with total strangers, but isn't holidaying in another country with a culture far removed from your own all about doing things you wouldn't normally do, so go crazy and get naked at one of the many onsens, to be found in Japan's ski resorts. The culture is rich and diverse, the Japanese food is delicious and the accommodation is affordable with options to suit all budgets.
Unless you ski and snowboard in and around the popular resorts situated in the Haikkaido and Nagano region, expect to run into a little bit of trouble communicating with many of the locals. It could however, be a nice trade-off, the ski fields will be less populated and the cultural experience that

much more richer.
So head to Japan, where fantastic skiing and snowboarding is not the only thing this culturally diverse country has to offer.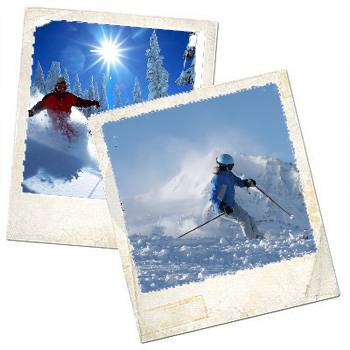 CLUB MED JAPAN:
SKI RESORTS:
Hokkaido
Asahidake
Furano
Niseko
Rusutsu
Sapporo
Sapporo Teine
Honshu
Appi Kogen
Hakkoda
Hakuba