Finland

A Winter vacation in at a Finnish ski resort is a once-in-a-lifetime experience
Skiing in Finland is unlike any other Alpine ski holiday. If you want to ski in breathtaking, peaceful scenery surrounded by ice-sculpted forests and frozen lakes, coupled with uncrowded pistes and resorts, a ski holiday to Finland offers you a very refreshing alternative. The resorts are filled with a warm, gentle Lappish charm and what's more, you can combine your skiing with a whole host of other exciting Arctic experiences such as husky, reindeer and snowmobile safaris, that are unforgettable adventures that you must experience.
Exotic Lapland, also offers unusual natural phenomena, such as Polar Nights and the Northern Lights, which create a unique setting your not likely to experience in any other part of Europe.
Skiing in Finland is predominantly in Lapland, the area situated directly above the Arctic Circle. Although the resorts are based at very low altitudes in comparison with some of their European counterparts, the snow is always guaranteed and the conditions are nearly always perfect.
The skiing is fairly extensive and ideally suited to those of a beginner and intermediate ability, although advanced skiers will love the amazing off piste opportunities.
The ski schools are excellent with English speaking instructors. Your biggest choice will be whether to visit during the months of December through to February when the Winter Wonderland is filled with shorter days permeated with a beautiful blue light or to take advantage of the longer sunnier days of March and April, bathed in a pinky glow.
One of the fantastic reasons to come to ski in Finland is also to have the choice of so many exciting activities at your fingertips. Enjoy meeting the animals and learning about their way of life on either the Reindeer safaris or the Husky dog sledding trips or Finland-polaroidsfor adrenaline junkies, you can get your pulse racing on one of the exhilarating snowmobile adventures and for the whole family a magical visit to Santa is an absolute must. If you are really fortunate, you may even be lucky enough to see the Northern lights, lighting up the night's sky with its hypnotic swirling rainbow coloured lights.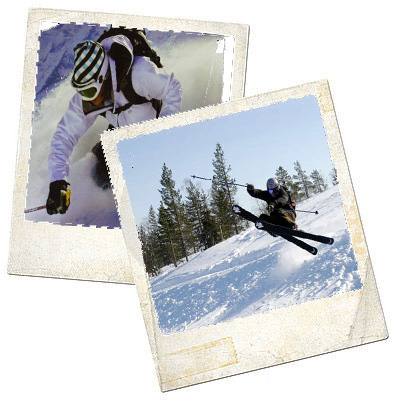 SKI RESORTS: