Norway

Skiing for Norwegian's is a National sport and one of the most cherished of all traditions
The Norwegian ski season typically lasts for six months and usually offers good snow conditions throughout with resorts usually opening in November and the snow often remaining light, powdery and deep until April. You will be impressed by the fast and efficient lift systems, the rather short lift queues and the modern ski equipment for hire, as well as the stunning and unspoilt landscape. You can go skiing in the same tracks as Olympic gold medallists Lasse Kjus and Alberto Tomba at Hafjell, or at one of the other 200+ modern alpine ski resorts to choose from.
Located just north of Lillehammer, you will find the ski resort of Hafjell. The resort was the site for the giant slalom and slalom events during the 1994 Lillehammer Olympics. Take the gondola to the top and choose between many long cruisers. One of Norway's largest ski areas and considered by many the best. Hemsedal, aka the Scandinavian Alps, is versatile with 22 lifts, 48 slopes and activities for all ages. Trysil is Norway's largest ski resort with 32 lifts and over 70 kilometres of runs connecting three sides of the mountain into a varied alpine facility. Popular with families, this resort also has a really good ski school. In Trysil, the whole family can take the same lift to the top of a slope and then choose different pistes of varying degrees of difficulty back down again.
Four interconnected areas make up one of Norway's oldest ski resorts, Geilo. This mountain village lies halfway between Oslo and Bergen and is known for good skiing during winter, and hiking, cycling and fishing during summer. Reach speeds of up to 100 kilometres per hour on Hardangervidda. Snowkiting, or skikiting as it is also known, is the latest craze in adrenaline soaked sports in Norway. A pair of skis or a snowboard, a helmet, harness, kite, some windproof clothes and some practice are what you need to reach speeds of up to 100 kilometres per hour. Instead of riding a chairlift to the top, snowkiters can use the wind to power them up a mountain and deep in to the untouched powder. And there is no better place for fun activity than Norway's breathtaking mountain plateaus.
For a truly exotic snowkiting experience you should visit Varanger far up in Northern Norway. Located next to the powerful Arctic Ocean, Varanger offers the unique opportunity to snowkite whilst watching out over the sea - an unbeatable combination. The heavy and pretty constant wind here gives you tremendous speed. Hardangervidda is rated as one of the top snowkiting places in the world. This large mountain plateau, that is a World Cup arena, offers excellent conditions for kiters of all abilities. Courses are being arranged here almost every weekend during the winter season.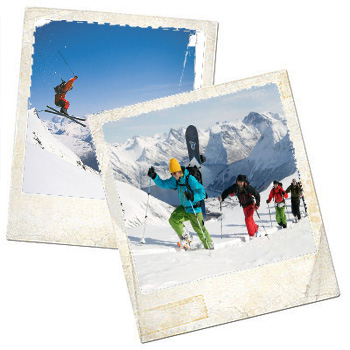 SKI RESORTS:
Tryvann / Oslo
Varingskollen / Oslo