Andorra La Vella

The tiny mountain kingdom of Andorra has everything you desire for the perfect ski holiday.
Andorra, which is located in the Pyrenees and straddles the border between Spain and France, is a skier's paradise. It has a number of superb ski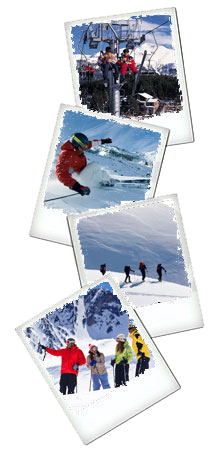 resorts, each one with its own character, and offers absolutely everything you could wish for. Furthermore, the interlinking of Pas de la Casa, Grau Roig, El Tarter and Soldeu ski areas has resulted in Europe's largest ski resort, Grandvalira.

For anyone not using the slopes, the lack of facilities in the ski resorts can be a slight drawback, however, the main alternative is to stay in Andorra La Vella and benefit from all the recreational activities offered by Andorra's capital city. The new Funicamp 24-person gondola goes from Encamp, just up the road from Andorra La Vella to the heart of the Soldeu, Grau Roig and the Pas de la Casa area and only takes about 14 minutes. Buses also run to and from Andorra La Vella and Escaldes.

Lying at the confluence of the Gran Valira, the Valira del Oriente and the Valira del Norte rivers, Andorra La Vella is dwarfed by stunning snow-capped mountains of up to 2500 metres high. The town itself has many attractions, with a big draw card being the duty-free shopping, but probably the most interesting place is the Caldea spa. The interior is laid out in a 'Hanging Gardens of Babylon' style, and the facilities are very impressive, including an indoor and outdoor pool, with fountains and waterfalls, saunas, hot-tubs, Turkish baths, hydrotherapy, sun beds, massage and even a grapefruit bath!

There is plenty of choice when dining out. Andorrans love seafood, and the traditional Catalan restaurants delight in providing it, which seems odd in the mountains; however it is delivered fresh from the coast daily. The apres ski is also well catered for with plenty of bars and nightclubs staying open until 4am. One thing to note is that the clientele of Andorra La Vella is generally considered to be a more sophisticated bunch, and consists mainly of Andorrans and Spaniards, with the 'drink-until-you-drop' attitude of the mountain resorts in other European ski destinations rare.