Jasna 3 Star Accommodation
Hotel Sorea Ján Šverma
The completely reconstructed Hotel Sorea Ján Šverma offers its guests accommodation in modern and comfortable apartments, single and double bed rooms, and family rooms equipped with toilets, showers, telephone, radio and a TV with satelilite programs. The majority of rooms also have their own balcony. Hotel facilities include a sauna, massage, table tennis, billiards, rental and storage of skis and mountain bikes, a volleyball court and campfire. For children, the hotel offers a children's play room and children's playgrounds. The restaurant is located on the ground floor and offers a rich selection of meals and local specialities.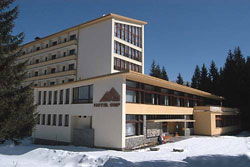 Location: Situated in the skiing and tourist centre in the Low Tatras National Park in Demänovská Dolina, near to the valley station of the cabin cable-car of the Jasná winter centre.
2017 / 2018 Ski Season Rates
7 nights accommodation with breakfast daily
Double Room on Request | Single Room on Request

Prices based on low season5. Rates are Saturday to Saturday min. 7 nights must be booked. Conditions apply. Subject to change and availability. Prices are subject to currency fluctuations. (dn)

Hotel Druzba
Hotel Druzba is situated in the Demanovska valley in the ski resort of Jasna. Recognized as one of the most popular hotels in the Tatras for its welcoming atmosphere and the high quality of its service, the hotel features two restaurants with excellent cuisine, a wine cellar, a bar with a open fireplace, wellness facility with swimming pool, sauna and jacuzzi. 3 star Hotel Druzba offers one and two-bed rooms, suits, and apartments. Amenities include a bathtub or shower, toilet, telephone, satelilite TV.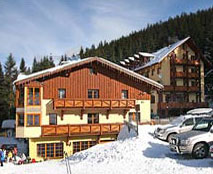 Location: Centrally located next to the ski track Biela Put, between the ski-tow stations Jasna and Otupne, at 1200 metres above sea level.
2017 / 2018 Ski Season Rates
7 nights accommodation with breakfast daily
Double Room on Request | Single Room on Request

Prices based on low season. Rates are Saturday to Saturday min. 7 nights must be booked. Conditions apply. Subject to change and availability. Prices are subject to currency fluctuations. (dn)